Take a walk down Linking Road in Mumbai. Hop on a rickshaw to Chickpet or Commercial Street in Bangalore. Stroll down to Chandani Chowk in Delhi. What do these places have in common? Aside from the bustling crowds (pre-COVID), the streets are lined with bazaars selling everything from saris to bangles to beautifully hand-crafted trinkets.

However, since planning a trip to India is unlikely, there are several ways to decorate your home with ancestral clues, telling stories of generations prior. And while a framed Johnny Cash concert poster or a Rothko reprint might look fantastic on your walls, adorning your house or apartment with hints of desi can strike the right balance of your American life, while sharing your Indian roots.
Vintage Family Photographs:
One of the best parts about being second-generation is browsing through the old vintage photos of our parents' or grandparents' lives before coming to America. Often with stoic but elegant expressions, these vintage photos are a great addition to any household, and most of them are too beautiful to be buried at the bottom of a closet. Place them in some vintage wooden frames and showcase them around your home.
Arabic-Inspired Calligraphy
Arabic is easily one of the most beautiful languages, and written Arabic script looks just as beautiful as it sounds. Artist Sangeetha Kowsik has created stunning artwork using Arabic within various South Asian-related objects. Her stunning artwork inspires a message of peace and cross-cultural understanding.
For purchase at Ihsnishan.com.
Prayer Mats
Many practicing Muslims already keep prayer mats in their homes. Artist Myhra Mirza, a graphic designer by trade, decided to modernize her mat since it was already a permanent part of her home. While the Niyya mats aren't specifically designed to be a home decor piece, she wanted to take an integral part of her life and offer as a ways to drive awareness to the peaceful nature of Muslims.
For purchase at Niyya.co.
South Asian Pop Art
Commemorate your love for the motherland in these amazing pop-art pieces. These Andy Warhol-inspired Thums Up pieces are a great mix of nostalgic and modern.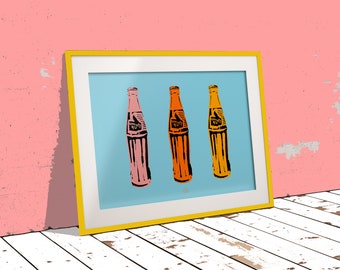 By CheekyBillo. For purchase on Etsy.
Indian-Inspired Illustrations
Whether your favorite holiday is Navratri or Uttarayan, these illustrations by artist Suhita of SketchAway are breathtaking. Her artwork evokes a sense of familiarity and fond memories of festivals in India. She uses a wide array of colors to add beauty to any home.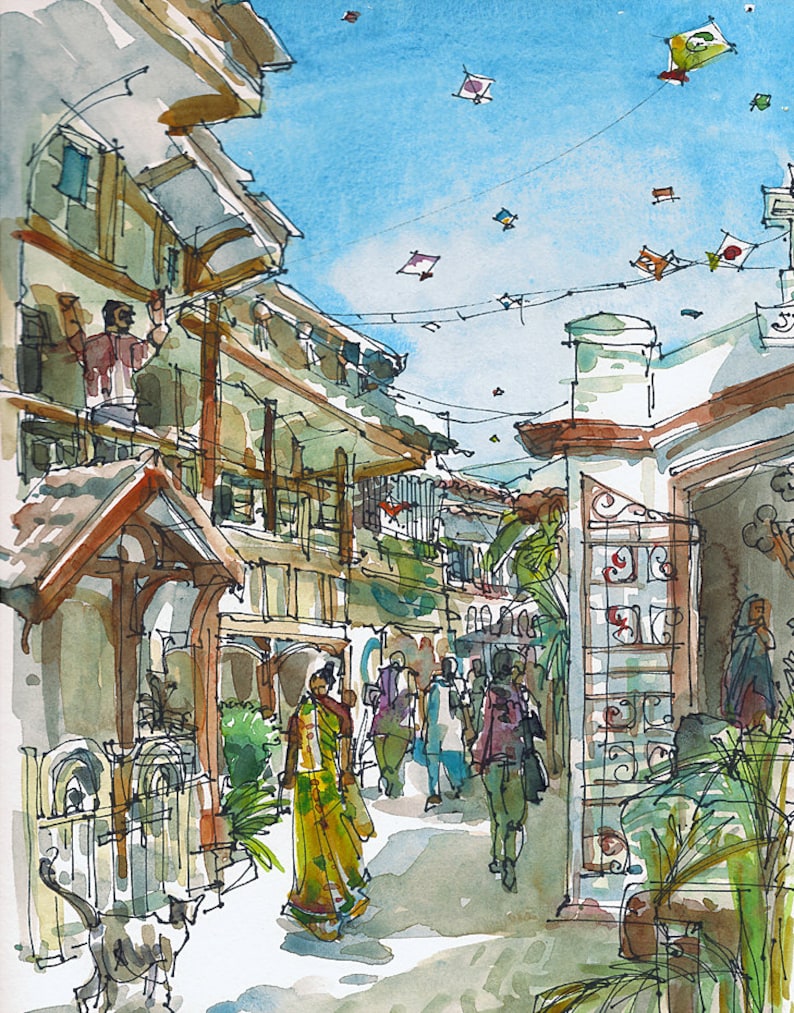 By SketchAway. For purchase on Etsy.
Wood carvings
Would you look at the handiwork on these? Hand-carved wall hangings are a beautiful accessory to add around the house. These etchings are intricately detailed, and also make for a thoughtful housewarming gift.
For purchase at Mango Designs.
Sari Aprons:
Many of us have saris collecting dust in our closets. However, old saris make for great curtains, bedspreads, and pillow covers. If you're good with a sewing machine, you can whip up some drapes, stitch up an apron for you to wear in the kitchen. Just be sure to put some heavy-duty lining on the backside to hold up to the everyday wear and tear.
For purchase at Upcycle Sari Apron, Ten Thousand Villages
Rajasthani boxes
Car keys, glasses, cell phone, contacts, jewelry. Life's stressful, and you do need a spot for everything. These boxes are beaded, some are painted, and they indeed are a beautiful addition to your mantle. You can also place a gift card or some other sort of gift in it to give to your friends or family for holidays and birthdays.
Coffee Table Books
Travel books about India are a great addition to your family room. Typically filled with brilliant photos and background on our country's complex history and culture, it's a great way to open conversation. Or perhaps a book by an South Asian illustrator. One of our favorite coffee table books is Nidhi Chanani's Everyday Love Art.
For purchase at Nidhi Chanani's Everyday Love Art.
Mughal Silk paintings:
Silk paintings share much about India's rich and complex history. While many of these paintings depict religious scenes from the Mahabharata and Ramayana, you can also find religious-neutral ones with peacocks, elephants, and tigers. They reveal bits about India's history and bring life to your walls.
By MaljiArts. For purchase on Etsy.
How do you showcase your roots at home? Share with us in the comments section!